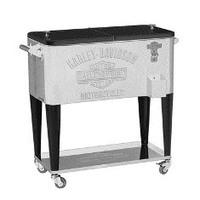 Harley Davidson Rolling Cooler
Harley Davidson Motorcycles Rolling Cooler Finlay Arrived at the factory today. Coolers should start shipping early next week filling all Back-Orders First 
Harley Davidson Motorcycles Rolling Cooler is loaded with fun and ready to go! Embossed stainless steel body fits any decor. Easy-grip handles and wheeled design with two locking casters lets you move the party indoors or out, while the Nostalgic Bar & Shield bottle opener and detachable cap catcher keep guests close to the action. Lower shelf with embossed logo provides plenty of storage space and divided lid with custom tooled Bar & Shield knobs offers quick access to beverages. Water tight, molded interior with insulated liner keeps drinks cold for hours. Side drain plug makes clean-up easy.
80 Quart capacity.
Easy assembly required.
Dimensions: 36 inches Wide x 34 inches High X 17.5 inches Deep
Weight: approximately 44 lbs.